Hey there, Meridian Readers. If you're enjoying the long weekend, thanks for spending it with us. If you're gearing up for work tomorrow, below is all you'll need to know for your Monday morning chit-chat. Let's dive in.
Publication: The Diplomat | By Layne Vandenberg
It's no secret that North Korea has trouble getting the world to understand what goes on within its borders. One tool the country has longed used as a means for diplomacy is sports.

Mao Zedong's China and North Korea strengthened ties through a "friendship first, competition second" mentality.
Fun fact: the Chinese would intentionally lose to North Korean athletes to simultaneously showcase China's confidence in its athletic superiority and goodwill toward its North Korean neighbor and political ally.

On Tuesday, October 15, the South Korean men's national football (soccer) team will travel to meet their North Korean counterparts for the first time in 30 years to play a scheduled qualifier match for the 2022 FIFA World Cup.

This marks the second visit of the South Korean men's team to Pyongyang following an international friendly held in 1990.

Considering the 1950-1953 conflict between the two Koreas ended in an armistice and not a peace treaty, the two countries remain technically at war. That should make for some interesting pre-game smack talk.
The agreement to host the match in Pyongyang — originally proposed by North Korea — follows multiple displays of amiability seen between the two Koreas at the 2018 Winter Olympic Games held in PyeongChang, South Korea
While sports are used abroad to improve North Korea's image and humanize the regime, they are used at home to reinforce messages of national strength and glory.

However, one element missing from North Korean football is success. The North Korean men's national side has only qualified for the FIFA World Cup twice since 1958. Yikes.

While sports can play a helpful role in diplomacy, a competitive football match is unlikely to dramatically improve or diminish relations between the two countries once the stadium lights are switched off.
Publication: Newsweek | By Tom O'Connor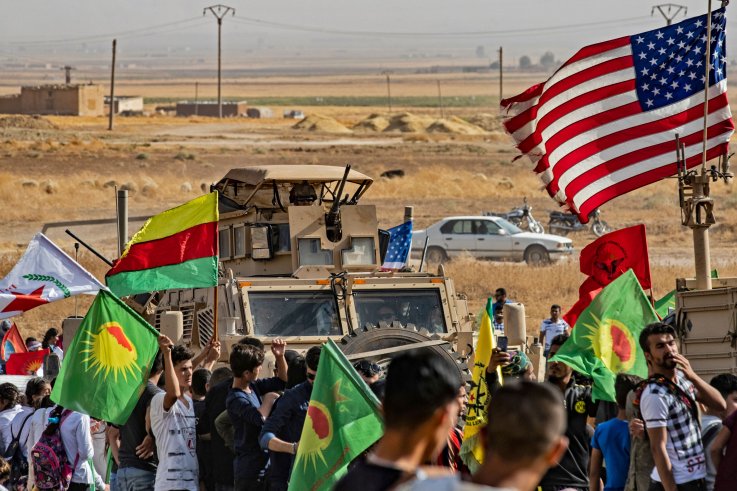 President Trump's is allowing Turkey to move against U.S.-backed Kurdish forces, and this decision has received significant criticism at home and abroad.

Without international efforts to resolve local and regional tensions, experts say such clashes were inevitable.

Turkey officially launched its incursion into northern Syria, termed "Operation Peace Spring," and is targeting Kurdish militias considered allies by Washington due to their leading role in U.S.-led efforts against ISIS.

However, those militias are seen as terrorists by Ankara due to alleged links to outlawed separatists at home. This incursion follows several previous cross-border operations and years of threats by Turkish President Recep Tayyip Erdogan, who has deeply criticized the U.S., a fellow NATO member, for its intimate ties with such groups.
"It was very clear from the beginning that this was going to lead to some sort of a showdown. The question is: Was it necessary to manifest itself in the way it did?" Trita Parsi, co-founder and executive vice president of the Quincy Institute for Responsible Statecraft, told Newsweek, criticizing Trump's "reckless, uncoordinated, destructive approach" to the conflict. "The U.S. is not indefinitely responsible for [the Kurds'] protection, but the manner in which we've gone about this is completely irresponsible," he added.

Trump tweeted Wednesday that he had "moved our 50 soldiers out," but the Pentagon has consistently denied that troops were being withdrawn from the country.

Spokesperson Jonathan Hoffman said in a Tuesday statement that the military simply "moved the U.S. forces in northern Syria out of the path of potential Turkish incursion to ensure their safety."

Hoffman also said the Pentagon has "made no changes to our force presence in Syria at this time," but Trump tweeted later Wednesday that "we are slowly & carefully bringing our great soldiers & military home."
The bottom line? Things have been messy in Syria for years. In a war-ridden region, it's hard to move the needle towards peace without diplomatic efforts. It's hard to tell exactly what is going on in the region, but things aren't looking great.
Publication: The Washington Diplomat | By Jonathan Gorvett
Since ancient times, the festival of Halloween has been celebrated across Britain and Ireland as a time separating the abundance of harvest from the scarcity of winter. Traditionally, it also marks a time when the veil separating the living from the dead can suddenly be cast aside. But on Oct. 31, many Brits will be nervous for another reason.

At 11 p.m. that night, the U.K. is due to leave the European Union after 46 years as a member of the world's largest trading bloc.

Some supporters of the now-infamous 

Brexit

 

departure see it as a chance for the United Kingdom to bring back to life old spirits of global glory. However, Brexit's detractors see Halloween as the potential start of a terrible winter for the world's fifth-largest economy.
How are things looking for Prime Minister Boris Johnson?

Not that bad. If a new iteration of Brexit finally passes after three years of deadlock, Johnson emerges triumphant (even if that plan is just a slightly altered version of Theresa May's original plan). But if Parliament rejects his plan, Johnson — a political survivor and perennial opportunist — may still cast himself as the hero who stood up to the EU but was thwarted by lawmakers.

Wondering what is really going to change after Brexit?

The UK will most likely be considered the EU's top trading partner, but that trade will have to comply with EU rules and regulations — and post-Brexit, there will be no U.K. input as to how those rules are made.

So while

 

the

 

spirits

 

of

 

Halloween

 

may

 

vanish

 

on

 

the

 

morning

 

of

 

Nov

. 1

,

 

the

 

realities

 

of

 

international

 

trade

 

will

 

not

 

—

 

with

 

Britain's

 

economy

 

still

 

very

 

much

 

in

 

the

 

shadow

 

of

 

the

 

European

 

regulations

 

that

 

advocates

 

of

 

Brexit

 

had hoped would be

 

a ghost of the past

.