Hi there, Meridian Readers. You've made it through another week, and hopefully you're enjoying the long weekend. No #SundayScaries this week, so let's ride that high and dive into today's edition of #MeridianReads.
Publication: Global Policy | By Duncan Green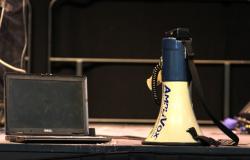 The author of this piece teaches masters students (mostly 20somethings) and gets a first-hand look at what they care most about.
One assignment asked students to design a campaign they'd like to run, and then write a 2,000 word strategy on how to implement said campaign. Below were the most popular ideas:

A green new deal in Indian schools
Tackling modern slavery in the wine industry
Ending child marriage in Sudan
Legal representation for child asylum seekers in the US
Improving the sex education curriculum in Toronto

The list goes on, and the topics range from refugees to the environment. Looks like this generation knows what's up.
Publication: The Washington Post | By Elena Souris
The latest nuclear weapons negotiation between the US and North Korea didn't work out. Shocker.
During the latest Trump-Kim summit, there were nine seats at the negotiation table. Not one was occupied by a woman.

Wait, we take that back. There was one woman: the American translator.

Women are sidelined in a lot of professional aspects, and nuclear policy making is no exception. However, there are plenty of women who are experts in this field, and excluding them threatens global security.

From the article, "Exclusion in the national security world means ignoring those who may have more experience and knowledge about a region or population, the ability to foresee obstacles others are blind to and more potentially effective and innovative solutions. In the nuclear field, where the stakes are life and death on a massive scale, this exclusion is costly."

If the field only values experts of a specific background and gender, the policy proposals will be just as narrow. No bueno.
Publication: Brookings Institution | by Geoffrey Gertz
Familiar with commercial diplomacy? If not, it's simply described as an activity conducted by state representatives with diplomatic status in view of business promotion between a home and a host country. It aims at encouraging business development through a series of business promotion and facilitation activities.
Since commercial diplomacy occurs primarily behind closed doors in confidential negotiations, it's difficult to observe or test its effectiveness.
Studies of the relationship between diplomatic interventions and investment protections are fundamentally challenged by a lack of observable data.

i.e. When an ambassador calls a host state foreign minister and successfully convinces her to resolve a complaint lodged by a foreign investor, neither the intervention nor the dispute resolution is typically observed, as both occur behind closed doors.

The rest of the article seeks to fill the gap in the understanding of commercial diplomacy and its role in contemporary investment protection. It's pretty dense, but we encourage you to stretch those brain muscles and give it a full read.
That's a wrap for this week. We'll catch ya on the flip side.