Welcome to the latest post of the Meridian Center for Cultural Diplomacy's Soft Power: The Monthly Roundup. Many exciting and meaningful cultural diplomacy projects took place this past May, with committed people from around the globe ensuring their success. Here's a look at some of the highlights.
See You Again, Kathmandu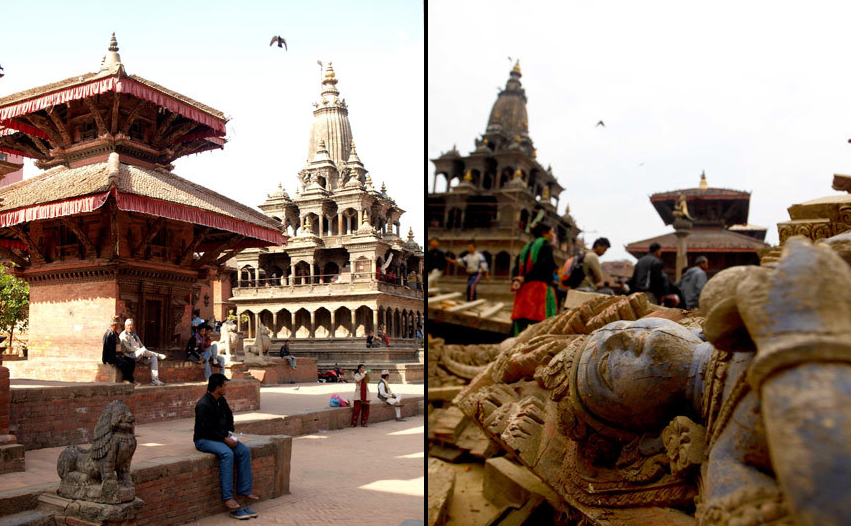 Nepal has experienced two major earthquakes in the past two months from which ancient settlements in the Kathmandu Valley and their Hindu and Buddhist shrines have been devastated. People from around the world have been helping to rescue the victims while advocating for restoring the destroyed cultural landmarks. In response, the Preservation and Restoration of Cultural Property (ICCROM) initiated a virtual crowd map that collects on-the-ground reports of damage to cultural heritage sites. While reconstruction could take decades, the Chinese internet search company Baidu also launched an online campaign to make 3-D recreations of these structures by combining crowdsourced photographs.
Music Begins When Minnesota Meets Havana
The Minnesota Orchestra traveled to Cuba from May 15 to May 17. During the trip, the musicians rehearsed with teenage members of the Amadeo Roldán Youth Orchestra and held two performances at the Teatro Nacional in Havana. As the first major American symphony orchestra to play in Cuba in over 15 years, this cultural activity gained standing ovations and huge cheers, especially when the Minnesotans teamed up with Cuban pianist Frank Fernández and two local choirs to perform Beethoven's "Choral Fantasy." Afterwards, the Minnesota Orchestra went to a Havana club, where they jammed and danced with local musicians.
Fall into the Chinese Fashion Fantasy
Hosted by the Metropolitan Museum of Art, China: Through the Looking Glass explores the impact of Chinese aesthetics on Western fashion. The exhibition juxtaposes high fashion pieces by Western designers with traditional Chinese costumes, paintings, porcelain objects, and other art genres, such as film. Washington Post fashion critic Robin Givhan wrote about how the exhibition "underscores the complicated nature of cultural representation, communication and understanding." This exhibition is currently on view in New York from May 7 through August 16.
All the World's Futures
Organized by la Biennale di Venezia, the 56th International Art Exhibition titled All the World's Futures is open to the public from May 9 to November 22 at the Giardini and Arsenale venues. Nigerian curator, art critic, writer, poet, and educator Okwui Enwezor is the first African curator in the exhibition's 120-year history. As the title indicates, he brings together work by international artists, such as Armando Lulaj from Albania, Paradiso Lussemburgo from Luxemburg, Maria Papadimitriou from Greece, and Chiharu Shiota from Japan. "There is nothing to compare to what Okwui Enwezor has done in Venice this year. It is, without doubt, the first truly and positively global art show," stated Chika Okeke-Agulu, a Nigerian artist, art historian, and curator.
A Children's Library on Camelback
The University of Chicago Press recently published a new book, Improbable Libraries: A Visual Journey to the World's Most Unusual Libraries by Alex Johnson, celebrating a selection of unique libraries around the globe. In some remote areas in Mongolia, camels bring illustrated books to children, allowing them to dream about the world outside their homes. Created by writer, translator, and publisher Dashdondog Jamba, The Mongolian Children's Mobile Library carries books to and from various nomadic communities. "[It] is a little different from other libraries," Jamba says. "The walls of this reading room are made of mountains covered with forest, the roof is blue sky, the floor is a flower-covered steppe, and the reading light bulb is the sun." His mobile library has traveled 50,000 miles through every province of Mongolia over the last 20 years.
Create the Cloud
Dutch artist Berndnaut Smilde is creating clouds for one of the world's leading contemporary art fairs, Frieze Art Fair New York, in Neuehouse on 25th Street as a part of his Nimbus Series, in which he fabricates clouds in unique indoor spaces, such as churches, castles, and dungeons. "Clouds are something really universal. Something that people give meaning to," says Smilde. To make the fluffy clouds, the artist needs a humid room, smoke machine, and spray bottle to form the water vapor. Smilde has been generating these indoor installations in many cities across the globe, including Cologne, London, and San Francisco.
Scent of a Dream
The ground beans in every cup of good coffee were touched by human hands. As a part of the Milan Expo 2015, the Scent of a Dream exhibition is composed of 75 images from the photographic journey of Brazilian social documentary photographer Sebastião Salgado to international coffee plantations. The 13-year project depicts the everyday lives of coffee workers in South America, Asia, and Africa. This exhibition opened on May 1 and will be on display until September 31. 
Turban Up!
Sikh Youth Federation brought about 30,000 feet of rolled fabrics to the Dundas Square in downtown Toronto on May 16 for "Turban Up," an event that spreads awareness about Sikhism. The square was filled with people in newly tied turbans of soft lilac, bright pink, and cobalt blue, among others. Audiences also enjoyed live performances of traditional Sikh music, swordsmanship demonstrations, and free food to sample. The Sikh practice of wearing turbans began during the early 18th century, when Guru Gobind Singh protested against the custom that only nobility in India could wear turbans.
Visit the World in 72 Hours
More than 70 embassies opened their doors to visitors over the past month as a part of the annual Passport DC event, which highlights the U.S. capital's international diplomatic community and its diverse culture. Participants learned about world cultures as they experienced food, art, dance, fashion, and music of different countries. Some highlights included the Embassy of The Czech Republic's vintage motorcycle show and the Embassy of Belgium's free chocolate. The National Asian Heritage Festival (Fiesta Asia) on May 16 provided participants with a variety of activities, including a multicultural marketplace, martial arts demonstrations, Bollywood street dancing lessons, and more.