Happy Sunday, Meridian Readers! We hope you beat the heat this weekend. Now, let's jump into this week's #MeridianReads…
Publication: The Guardian | By Lily Kuo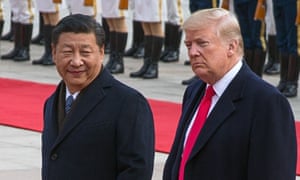 Twitter is banned in China, but that isn't stopping officials from using President Trump's favorite outreach tool.
How are they doing this if it's banned? Well, the app is mostly being used by diplomats based in other countries.

The surprising factor? Most of the foreign service officers who are taking to Twitter to confront Beijing's critics more directly aren't usually outspoken.

"It is a new communication strategy adopted by Chinese diplomatic actors," said Alessandra Cappelletti, a cultural diplomacy expert at Xi'an Jiaotong-Liverpool University. "They are using this tool increasingly in an effective and sophisticated way to reach the broader audience as much as possible," she said.
Chinese officials are most afraid of those with personal Twitter accounts attacking the country's policies, which the government said could "ruin its relationships." Its not wrong.
Publication: The Washington Diplomat | By Jason Overdorf
Here's the deal. President Trump vowed to pull out of the North American Free Trade Agreement (NAFTA) when he was elected in 2016. Democrats were skeptic. Now with a new deal on the table (the United States Mexico Canada Agreement), dems are insisting it could be better.

Specifically, they want clearer measures to enforce its environmental regulations and labor provisions.

Last month, Trump threatened to escalate tariffs against Mexico if President Andrés Manuel López Obrador did not immediately stop the flow of migrants across the U.S. border. Then suddenly, the president backed off his threat, saying that because Mexico had agreed to take "strong measures" to curb migration, the U.S. would not be slapping tariffs on its neighbor to the south — for now.
Trump's latest trade gambit threw another wrench in the effort to replace NAFTA. Last October, after over a year of negotiations, the U.S., Canada and Mexico agreed to overhaul the 1994 agreement responsible for $1.2 trillion in annual trade among the three nations. But NAFTA's replacement must still be approved by a bitterly divided Congress. Don't hold your breath.
Publication: BBC | By Chris Baraniuk
It's 2019, everything is green. Yes, that rhyme was planned.
Here's the thing: cars are responsible for a lot of the carbon emissions that contribute to global warming, but so is their manufacture. Could plastic made from weeds, modular designs and other innovations help the motor industry reduce its carbon footprint? Let's find out.
Everyone knows that driving fossil fuel-guzzling cars is bad for the environment, but we often hear less about what can be done to reduce the CO2 emissions of vehicles before they even hit the road. The carbon footprint of making a new car varies greatly depending on the model, but it's usually big.
I know what you're thinking. "We have electric cars now, that'll fix it!" Wrong.

Well, in principle, they are much better for the environment, but if the factory making lithium batteries is powered wholly by fossil-fuel energy then the carbon emissions of manufacturing such a vehicle could be nearly 75% higher than for a conventional car. So, bad.

Ford recently announced it would start using carpets made from recycled plastic bottles in a new line of Sports Utility Vehicles (SUVs). The company recycles 1.2 billion plastic bottles globally every year and many other manufacturers, including BMW, have switched to recycled plastics for their vehicle interiors.
Professor Steve Evans at the University of Cambridge's Institute for Manufacturing says the number one thing firms can do to decrease the environmental impact, per vehicle produced, is to lower the energy sucked up by car factories.
"Toyota in Europe managed to reduce that energy per car by about 8% per year for 14 years," he said. "To me, that's the benchmark – that is amazing." Let's all hear it for Toyota!

It seems like car parts being made from plants is still pretty far away, but for now we can all at least try to be kinder to the Earth, and maybe car companies can recycle a biiiit more.
That's it for this week, we'll see you next time.